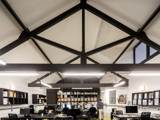 About us
We're an independent web development agency. Around us orbits a brilliant array of talent from coders & programmers, designers, SEO gurus, marketeers and more. We provide a full-service spanning strategy, design, build, testing, deployment and day-to-day website management.
Whether your site needs to sell, educate, engage, or more, we'll bring it to life with uncommon thinking, creating digital experiences that are stunning to look at and a dream to use. And running everything with well-honed project management platforms and tools, we'll deliver your project with speed and ease.
Umbraco website development
We can design your website from scratch using Umbraco – a simple yet elegant open-source web development platform that we've used since it was first launched more than 15 years ago. It provides the building blocks to create a unique website for your brand.
In some instances it may be preferable to use an alternative system, such as Squarespace, Shopify or Shopwired to build your site; we'll discuss this with you during the discovery phase.
Accelerating project management
As every website is unique, we use a consistent methodology to ensure your requirements are always the North Star – and remain the North Star throughout the project. We've also honed our management practices, based around Agile, to ensure we hit milestones and stay on track – always.  
We'll get our cogs turning for you
If you've got a kernel of an idea, or just want some advice,
let us know because we're always happy to give our views and ideas.